Custom Hand Made Womens Leather Belts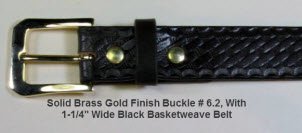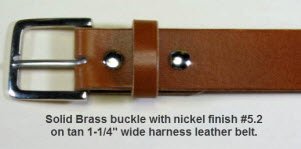 Our Womens leather belts can be used as dress belts or casual belts. Just select the color and buckle to meet your needs. We hand make your belt to your specification. To order just make your selections from the drop down menus listed below.
We use 8-9 oz (1/8"-9/64" thick) Full Grain Harness Leather. This leather is firm, durable and feels great. The leather is just a little thinner than the Men's Leather Belts that we make. If you need a thicker belt check out our Men's Leather Belts.
Leather Belt Colors:
Womens leather belts can be ordered in six colors. We hand dye each belt to your preferred color. Colors shown below (left to right) is natural, tan, light brown, medium brown, dark brown and black.
Natural unfinished leather is a flesh color, that darkens a little with age and sunlight. It is unsealed so you can use whatever treatment on it that you like. The Tan is a British Tan color, Lt. Brown is darker with less orange, Medium Brown is darker and dark brown is close to being black.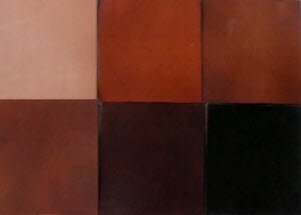 ---
The Womens Leather belts are finished with Leather Balm (with Atom Wax). After break in you can use another thin coat, applied with a sheepskin pad or cloth and buffed, to make your belt even better. This product is available from any leather goods store like Tandy Leather. 
The back of the belt can be left "Natural", Sealed with a clear sealer to make it smooth, or dyed the color of the belt and then sealed. For Black belts we recommend an undyed sealed back.
Womens leather belts are offered in two widths. A thin leather belt which is 1" wide and a 1-1/4" wide belt. If you need a wider belt please see the men's leather belt page.
All of the belt buckles that we offer are used by women and men. We offer over forty buckles to choose from. For a picture, description and buckle number that you will need when ordering a buckle please click here. There is also a selection of buckle sets that fit 1" wide belts. They are listed on the tapered leather belt page here. If you would like a buckle set just make note of the buckle number # set and select it from the drop down menu below.
Belt Measurement: 
See Determining Your Belt Measurement before ordering. It is extremely important to provide me with your correct belt measurement. I cannot accept returns for belts that are too big or small if the wrong measurement is provided. So please take the time to measure before ordering.
If you are ordering a belt without a buckle  click herefor measurement instructions. 
---
Base Purchase Price $62.00 US.

---
Return from Womens Leather Belts to Custom Leather Belts Home Page