Leather Belt without Buckle
Our Leather Belt Straps Are Hand Made To Your Specifications
Need a leather belt without buckle? Look no further. We will hand make your leather belt strap based on your needs.
You can build and order a custom leather belt without buckle below.
When ordering you select:
Harness or Bridle leather
Belt width
Belt Center Hole Length Measurement
Belt Color
Do you want belt buckle slot?
Brass or Nickel Chicago screw fasteners?
Do you want keeper loops?
Do you want back finished?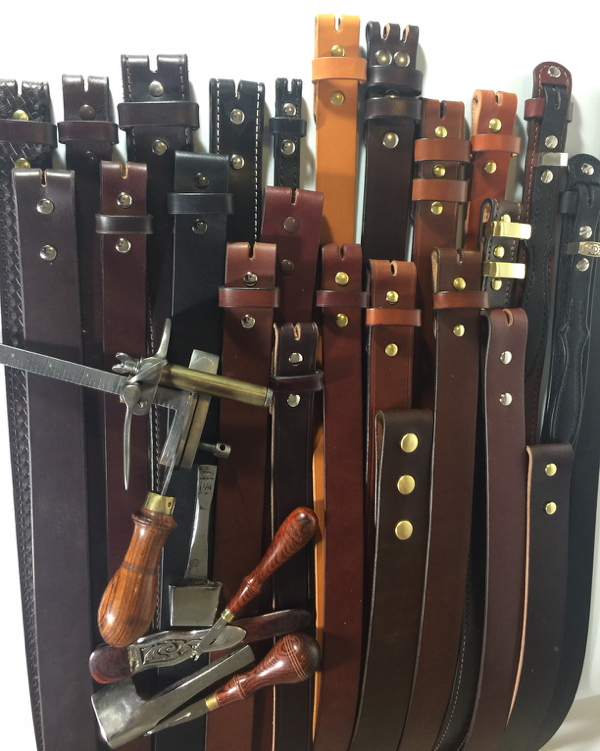 Determining Your Center Hole Length Measurement:

When ordering a leather belt without a buckle I will need your Center Hole Length Measurement. Your "Center Hole Length" for a belt without a buckle is the length from where the belt folds over the buckle (inside dimension) to the hole you use the most.  Again measure from inside the fold (not outside) to the most used hole.  This is your "Center Hole Length" and will be used to make your new belt as shown on the diagram. This will make your new belt fit properly on the center hole.If you anticipate a change in your waist size, you can add or subtract one inch from this measurement.
REALIZE that attaching your buckle will make the belt longer so you must take the buckle length into consideration when determining your overall belt length. Since I don't have your buckle it is up to you to allow for this.   On Trophy or Western type buckles it is the distance from where the leather attaches to where the pin is.
A belt with a regular style buckle you determine the overall width by adding the buckle lenght as show in this graphic.


I only need the "Center Hole Length Measurement" when ordering a leather belt without a buckle as shown on the top diagram above NOT from this diagram on the left.

Tongue Slot, Chicago Screws (fasteners) and Keeper Loop?
When ordering a leather belt without a buckle we will need to know if you want the belt to have:
A tongue slot.
Type of finish for the Chicago screw fasteners (i.e. nickel or solid brass). Other fasteners (e.g. snaps, rivets) are also available.
Do you need keeper loop and if so how many?
You can select these items as you build your belt below.

For more information on tongue slot, Chicago screws (fastener) and keeper loops click here.


Belt Holes and Edges:
These leather belt straps have 5 holes one inch apart. Belts over 50" in length get 7 holes. The belt edges are beveled, burnished, and dyed by hand with attention to detail. Natural harness leather belts I hand burnish the edges but do not dye them.
If you want something different just send me a note in the comment section below. Or go to Contact Us to ask me your question.

Belt Colors for a Leather Belt without buckle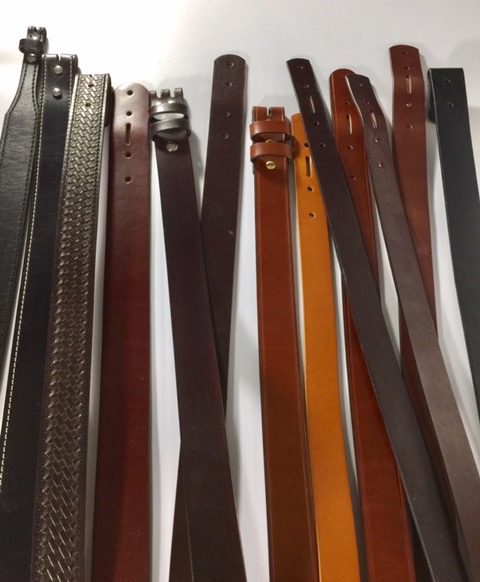 Harness Leather Colors:
Harness Leather Colors:
When hand staining leather every piece is different. It is like staining wood. Variations in color happens because the grain density varies and the dye is absorbed differently throughout the belt. The colors shown below are as close to the true colors as I can get. Harness leather colors shown below (left to right) is natural, tan, light brown, medium brown, dark brown (very dark brown) and black. Note again the dark brown is very dark brown.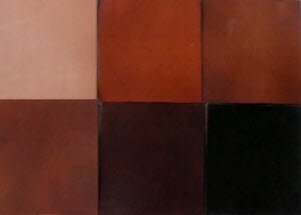 Bridle Leather Colors:  
Bridle leather is available in six colors. From left to right; tan, chestnut, medium brown, British brown, dark brown and black. Please note that British Brown Bridle leather normally is thicker than the other bridle leathers and can be as thick as 1/4". It is also firmer than the other Bridle leathers.

Tan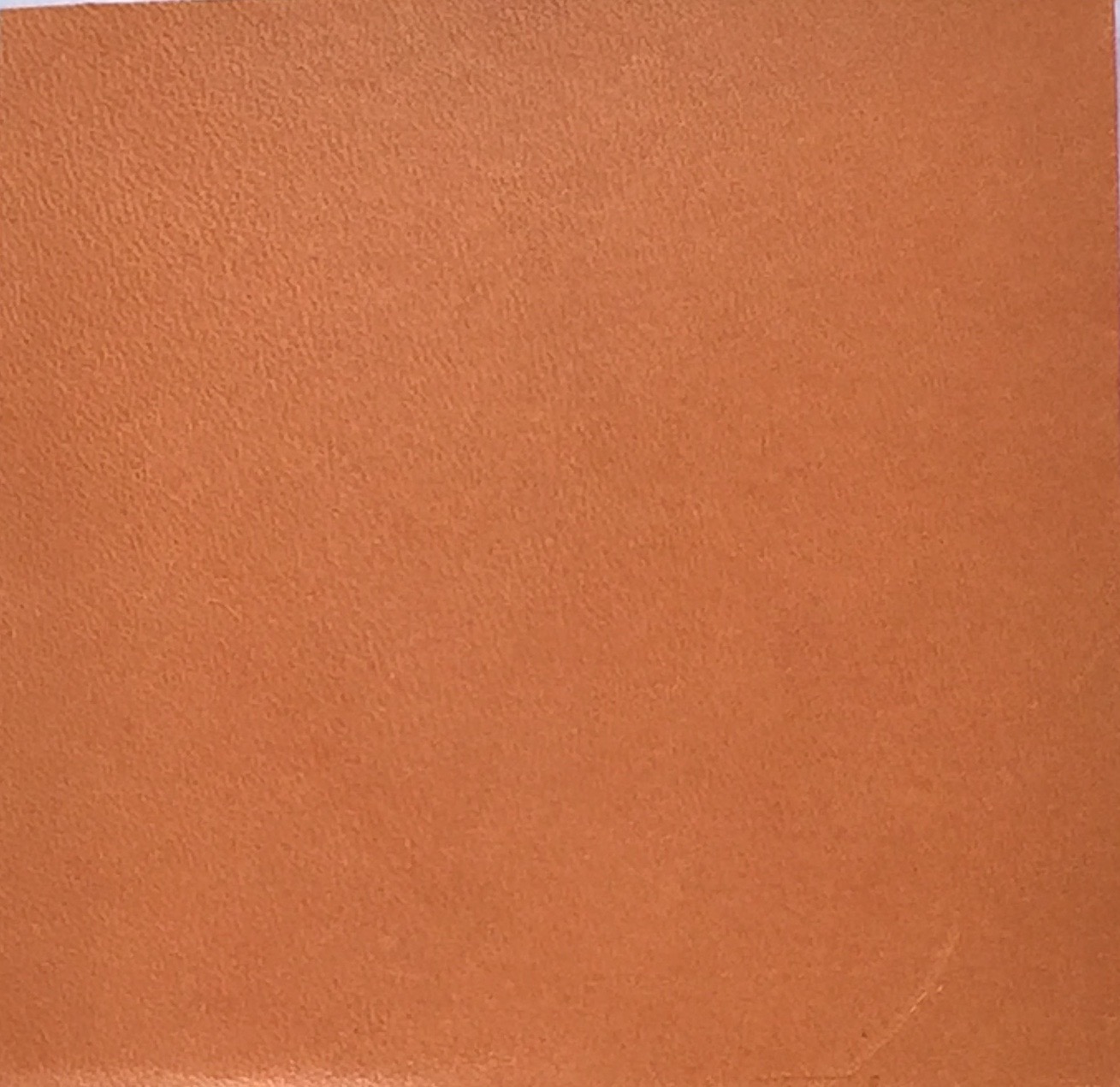 Chestnut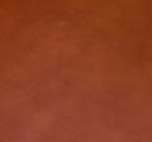 Medium Brown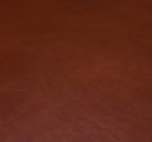 British Brown
Dark Brown

Black

Belt Back Finish:
The back of the harness leather belt without buckle can be left Natural or Non dyed and sealed with a clear sealer to make it smooth.
The Bridle leather belt without buckle is dyed and finished on both sides at the tannery. The back side of the belt is the flesh side which absorbs dye differently than the top side therford the color maybe a different shade than the top (front) side.
Prong Hole Size:
| | |
| --- | --- |
| | The standard hole size (diameter) used for 1" belts is 1/8": For 1.25" wide belts 5/32":  For 1.5" wide belt 11/64":  For 1.75" wide belt 3/16".  If a different size hole is needed please make a note in the comment field.  For belts using a Western type buckle with a prong that fits into the hole, a snug fit will provide the best fit.   Please contact us if the hole size needed is not listed. |
---
Build and Order Your Custom Made Leather Belt Below
Base Purchase Price $55.00 US.