Heavy Duty Bridle Leather Work Belt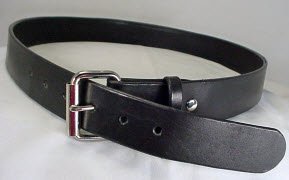 This durable leather work belt is made from thick 9-10 oz.(9/64" - 5/32") bridle leather. This vegetable tan beautiful leather is factory drum dyed for true dye penetration and is stuffed with greases, tallows and waxes that make it weather resistant and is more refined than harness leather. 
This is very high grade leather with good uniform thickness, finish and color. This is a perfect leather if you want a work belt that requires a combination of strength, beauty, flexibility and character. 
For a thicker and stronger belt that can also be used as a work belt see our Bridle Leather Belts and our Gun Belts.
Leather Work Belt Colors 
This work belt is available in Tan, Medium Brown, Dark Brown, and Black. This leather belt is dyed and sealed on the back. The belt edges are beveled, burnished, dyed and finished by hand.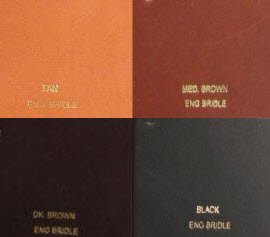 Belt Widths and Buckles -
I offer these leather work belts in 1-1/4" and 1-1/2" widths along with a good selection of buckles. Buckles offered on these belts are shown on the men's leather belt page here. Look for the 1-1/4" and 1-1/2" buckles. Make note of the buckle number you would like and when ordering select it from the drop down menu below.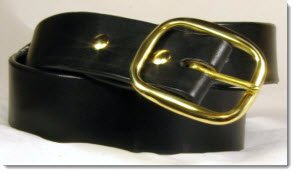 The belt shown to the left is black, 1-1/2" wide, with a solid brass center bar oval buckle (Buckle #9.7). There is no keeper loop with belts that have a center bar buckle (unless you request one).
The medium brown belt below is also 1-1/2" wide with a solid brass oval center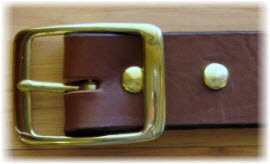 bar buckle (buckle #11.2). The corners on the #11.2 buckle are a little more squared inside the buckle compared to the #9.7 buckle. The brown is a little darker than what is shown on the color chart above. Most of medium brown leather that I have been receiving lately is of the darker rich brown color shown to the right.
Belt Measurement -
The center hole length is the size you are ordering and is measured as in the diagram below when we make your belt. Measure your current belt from the buckle end to the hole you are using. Your new belt will then fit properly on the center hole.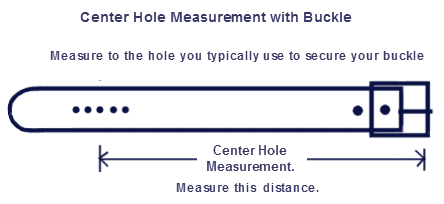 If you are ordering a belt without a buckle I will need a different measurement. Click  here for instructions on how to determine your center hole belt measurement when ordering a belt without a buckle. 
It is extremely important to provide me with your correct belt center hole measurement and belt width. I cannot accept returns for belts that are too big or small if the wrong measurement is provided. This is the case when ordering any of our belts not just the work belts. So please take the time to measure before ordering. 

---
This leather work belt is available for only $69.00. This is a great value in a leather work belt. I can offer this price because the leather is pre-finished at the tannery which saves me money on my labor and finishing supplies.
This cut of leather that I use is a little smaller than my other belts and is only long enough to make belts up to 42". If you need a longer belt use the harness leather on the men's leather belts page or the bridle leather on the bridle leather belt page.
If you are looking for a good solid plain belt, I believe these are as good as you will find. If you want the ultimate strength, and the ability to hold and cinch even tighter than check out our  double prong belts. 
---
Note: If a belt is being ordered without a buckle and you have belt keeper/s that you are planning to add to the belt, you must select one or two keepers when ordering so we know to design the belt with fasteners (e.g., Chicago screws, snaps, etc.) for one or two keepers.  
Build and Order Your Custom Made Leather Work Belt Below
Base Purchase Price $69.00 US.

---
Return from Leather Work Belt page to Custom Leather Belts Home Page