Leather Money Belts For Men and Women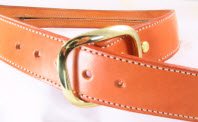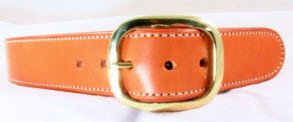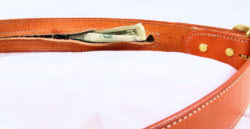 About Leather Money Belts
Hiding money in money belts will bring you more peace of mind to know that your money is safer than just having it in your pocket.  A thief is unlikely to have you remove your belt even though they may know that money belts exist. You can use money belts to also keep traveler's checks and documents. All money belts have in common a hidden compartment within the belt. Turn the belt inside out and open a zippered compartment, stash your cash, zip up, thread the belt through your loops and stroll the streets in safety.
Our USA made leather money belts are constructed with premium thick bridle leather and are offered in six colors. Belts are available in 1-1/2" and 1-3/4" widths. A large selection of buckles are available to choose from when ordering your money belt below. We also use durable high quality self locking nylon zippers that zip smoothly without jamming. Our money belt can be ordered with a 20" or 25" zippered pocket. The approximate number of bills that can be stored in the pocket are shown in the chart below.
Bills Per Zipper Length and Belt Width

Belt Width
20" Zipper
25" Zipper
1-1/2"
15-18 Bills
20-24 Bills
1-3/4"
21-24 Bills
28-32 Bills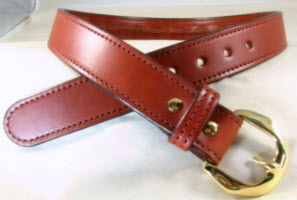 The money pocket is formed by splitting the belt the length of the zipper, the zipper is inserted and then the belt is stitched back together forming a zipper pocket in the back of the belt. The edges of the belt are beveled, burnished and dyed creating a smoothed seamless edge.
The money belt above right is 1-1/2" wide and made from medium brown bridle leather with brown stitching. The buckle is the Solid Brass Fixed Prong #8.4.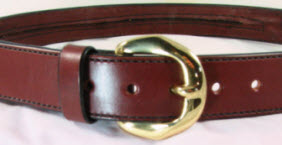 The money belt shown on the right is 1-1/2" wide and made with British medium brown bridle leather with brown edge stitching. Shown with a solid brass fixed prong buckle #8.4. 

The belt to the right is a 1-1/2" wide black bridle leather money belt with the stainless steel roller buckle #1.2.6.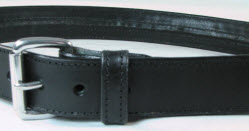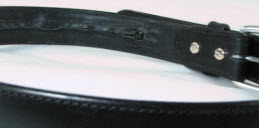 Determining Your Center Hole Measurement:
When ordering your money belt it is extremely important to provide the correct Center Hole Measurement. Center Hole Measurement IS NOT your waist size or pants size. For instructions on how to determine your Center Hole Measurement click here. If you are ordering a money belt without a buckle click here for instructions on how to determine your center hole measurement.
Available Colors:
Leather money belts are available in six Bridle leather colors. From left to right; tan, chestnut, medium brown, British medium brown, dark brown and black.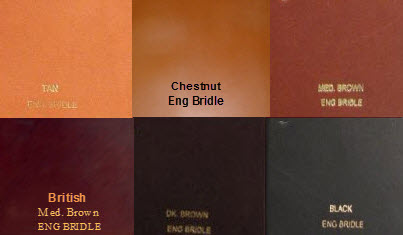 ---
Order Your Leather Money Belt

We are sorry but money belts are not available at this time. 
We should resume production within several weeks.
---
Return from Leather Money Belts to Custom Leather Belts Home Page