Big Men's Leather Belts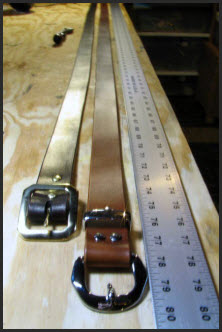 Looking for Big Men's Leather belts? We make lots of them. Our hand crafted custom made big men's belts are made from bridle and harness leather. The leather sides that I use on a regular basis are approximately 75" long. From this I can make a belt with a center hole measurement up to 65" long.
The picture on the right shows two belts that are over 65" long. I always have leather in stock to consistently make up to 65" long belts. I can do longer up to 79" but it may take me a day to get the leather. If you need a belt longer than 65" just let me know in the comment section box when ordering and I will let you know if I need an extra day to purchase the leather.
The width of these belts are normally ordered at 1-1/2" and 1-3/4". If you would like a wider belt just let me know in the comment section when ordering. Also any belt 50" or longer will get 7 holes punched instead of five holes as shown on the diagrams below. Therefore the center hole on the longer belts will be the fourth hole. 
You can order big men's leather belts up to 65" long on the Men's Leather Belts page and Bridle Leather Belts page. Belts on the Men's Leather Belt page are made from 9 to 10 oz (9/64" to 5/32") thick harness leather and bridle leather belts are made from 10 to 12 oz.(5/32" to 3/16") thick leather.
See the men's leather belt page for available buckles for 1-1/2" and 1-3/4" wide belts.
Center Hole Measurement - The measurement I will need.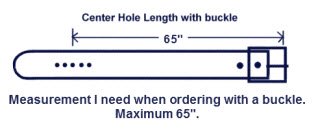 These custom leather belts can also be ordered without a buckle.

Please make sure you properly measure your center hole measurement before ordering. Belts are not returnable if the wrong center hole measurement is provided to me so please review the instructions.
For more information on how to properly measure your belt size see Belt Measurement Instructions.
Accents
There are also several accents that can be added to your belt. Choose from single or double grooves added to the belt edge. Basketweave embossing can also be ordered. See the Men's Leather belt page for more information on the available accents.