Leather Ring Belt
Our hand made leather double ring belts are available with O rings or D rings. O rings are available in brass and chrome over solid brass. The D ring belt can be ordered with brass,  nickel or stainless steel D-rings.
These belts are available in 1-1/4", 1-1/2" and 1-3/4" widths.
You can also choose harness leather or bridle leather in a variety of colors.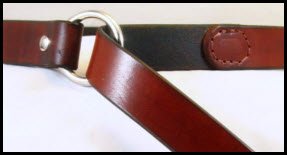 As shown in the picture to the right the tongue of this belt is reversed in order to have the top grain of leather showing when the belt is cinched through the double ring buckle. The tongue is stitched to the belts body with heavy duty nylon thread.  Below is a black harness leather with D-rings.  Note the reverse tongue so the top grain shows when the belt is cinched.  The next picture show the inside (flesh side) of the belt.  Again, you can see how the tonue is a a sepeate piece of leather that is reversed and sewn to the base strap so when it is cinched the front top side shown.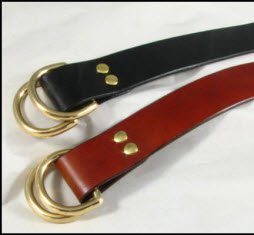 The two belts to the left are D-ring belts made with black and light brown 1-1/2" (1.5") harness leather. Note that the wider belt gets two chicago screws. 
Leather Belt Colors
The colors below are as close to the true colors as I can get. They, are standard colors. Colors when you dye leather by hand may vary within the same piece of leather. This is similar to the way color of wood may vary when staining by hand. Every piece may have somewhat of a different shade. Colors shown below (left to right) is natural, tan, light brown, medium brown (has a red tint), dark brown and black.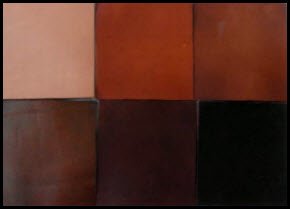 Bridle leather colors are shown on the Bridle Leather Belt page.
Belt Measurement
A ring belt does not have holes cut in the tongue. Although in order to get the correct measurement please use this diagram to determine the measurement I need. Measure from the buckle to the hole you normally use. This may not be the middle hole of your belt.
PLEASE ACTUALLY MEASURE. CUSTOM MADE BELTS ARE NOT RETURNABLE BECAUSE OF INCORRECT SIZE.
---
Stainless Steel D Ring for 1.25" wide belts currently out of stock.   No ETA at this time.
Base Purchase Price
$63.00

US.
Build and Order Your Custom Made Leather Ring Belt
---