Braided Leather Belt
A THREE DAY MAINTENCE IS SCEDHULED WHICH WILL REQUIRE A STOP IN PRODUCTION.   PRODUCTION OF BELTS WILL BE DOWN THURSDAY (JULY 9), FRIDAY (JULY 10) AND SATURDAY (JULY 11).  WE WILL RESUME PRODUCTION ON MONDAY (JULY  13).  THANK YOU FOR YOU BUSINESS AND INTEREST IN CUSTOM LEATHER BELTS.
The braid style that I use on the braided leather belt I offer is referred to as mystery or trick braid. It involves manipulating a single piece of leather that is cut into strips within the body of the belt but the ends of the belt remain uncut. The strips are in the center of the belt. This leaves the buckle end and the tongue end a solid uncut piece. The strips are then braided into a braided strip.
Most leather crafters make braided belts from three or five strips. As a result the width of the final braided strip is a little smaller than the belt ends. 

My seven braid 1-3/4" wide belt achieves a consistent width of 1-3/4" on the belt ends and the braided area of the belt. The picture above right is a seven braid belt.
Seven Braided Leather Belt

My seven braid belt uses seven strips. You can see the seven strips of the belt before it is braided in the picture below on the left. The width of the overall belt ends up at 1-3/4". The edges on each of the seven strips are beveled and finished.
Pricing for the seven braid belt is $90. It takes a long time to make by hand.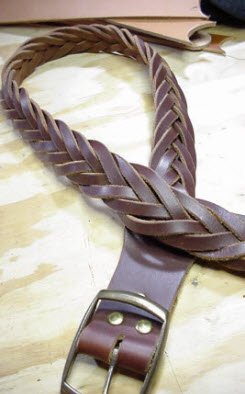 Three and Five Braid Belt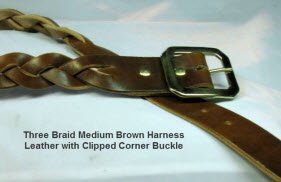 We also make 3 and 5 strips braided leather belt because they are easier to make and therefore less expensive. The edges are beveled and finished.
The 3 strip braided belt width is 1-1/2" and a little less than 1-1/2" wide in the braided area. It sells for $50.
The 5 strip braided belt width is 1-3/4" and a little less than 1-3/4" in the braided area. The price for the 5 strip braided belt is $60. 
I use 9 oz to 10 oz Bridle leather and Harness leather offered in four colors: tan, medium brown, dark brown and black.
---
Build and Order Your Braided Leather Belt Below

Production of braided belts has been temporarily suspended. 
---
Return from Braided Leather Belt to Custom Leather Belts Home Page